My yearly ride to the himalayas this year:
Was out on the road for a week visiting Spiti Valley in himachal and visiting friends at
Spiti Ecosphere
.
Who are they?
http://www.spitiecosphere.com/about_us.htm
Why Spiti Valley
The cold desert zone and untouched places of Spiti, World's Highest village Kibber, World's Highest Petrol Station Kaja, World's Highest post office Hikkim, World's 2nd largest glacier Barashigri, 1000 years old Tabo monastary known as Ajanta of Himalayas, 4550 mts Kunjum Pass, Barren Landscapes.

The Ride:
I was riding my 350 CC Royal Enfield motorcycle, The ride takes one through some of themost rouged and difficult roads int he world going through places like Rohtang - Kunzum La - Malling nala and Kinnaur .
Picks and some wiki gyan
Camera : Cannon 400D
Lens : 18-55 MM Standard Kit lens
The Trans Himachal Ride
The trans Himachal circle starts from Shimla or Manali and ending back at the same place. The road is a part of the ancient Silk Route and has been traveled by traders and shepherds for thousands of years. The ride takes one through the lush green Lahaul Valley till one enters the colorful but harsh high altitude region of Spiti which is known for its old monasteries, apples and vivid landscape, Spiti also has some very beautiful lakes and glaciers ( Chandra taal and Bara sigri glacier to name a few). Spiti is a favorite destination of trekkers and mountaineers from around the world there are some very good treks that start of end in the valley like Pin-parvati trek (starts from Manikaran in Kullu district and passes through Pin Parvati pass at 4810M then decants to Mud village in Spiti). Pin Valey national park (
http://en.wikipedia.org/wiki/Pin_valley_national_park
) is known for its varied landscape, mammals like snow leopard and Siberian ibex which are very rare and for birds like snow partridge and snowfinch.
Colorful Spiti valley
http://en.wikipedia.org/wiki/Spiti_River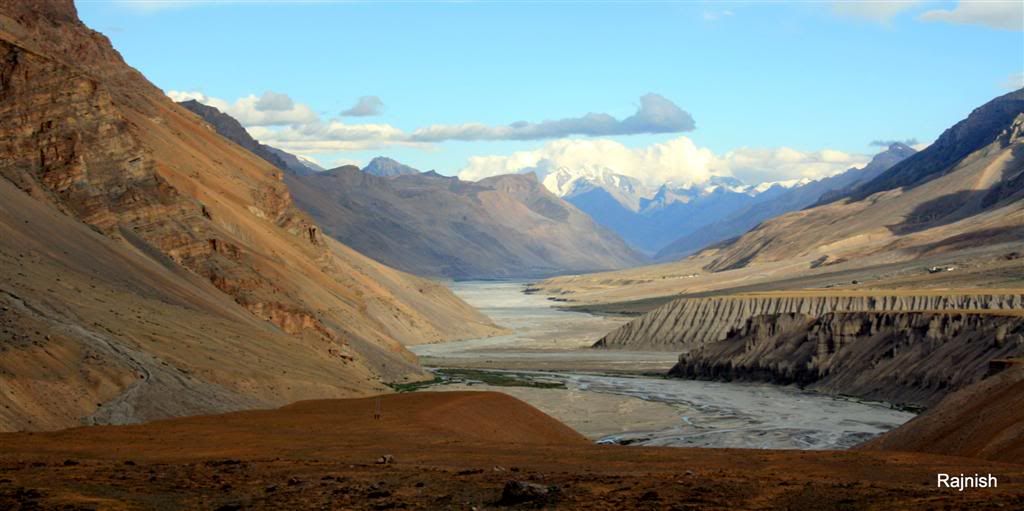 (Rohtang La)
(altitude 13,051 ft (3,978 m)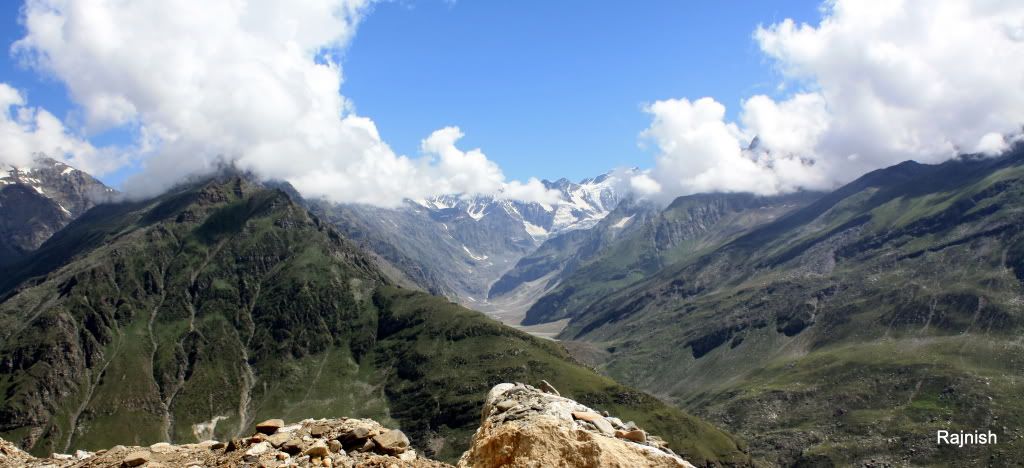 Kunzum la
((altitude 4,551 m; 14,931 ft) The highest point in the journey.
http://en.wikipedia.org/wiki/Kunzum_Pass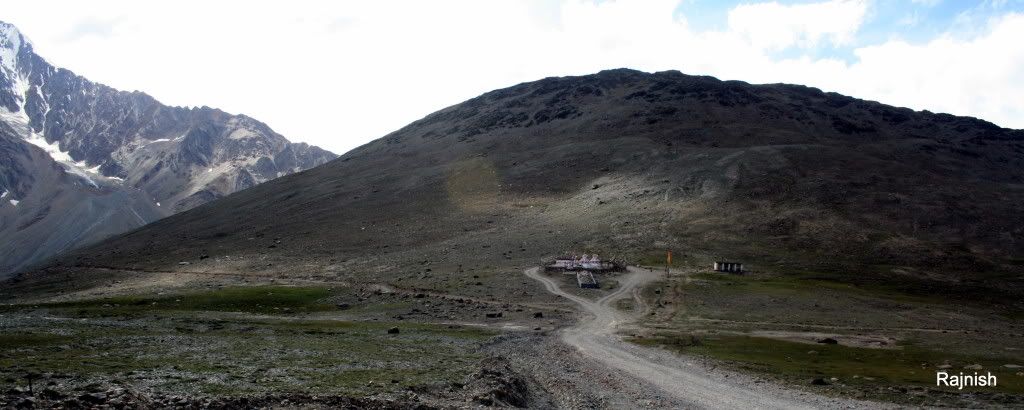 Save the Glaciers
http://ridetonirvana.blogspot.com/2007_04_01_archive.html#3051350140471553077
Bara Shigri
:- Bada Shigri is the largest glacier in Himachal Pradesh. It is located in the Chandra valley of Lahaul and it feeds the river Chenab. Bada Shigri glacier is more than 25 km. long and about 3 km. wide. It lies on the middle slopes of the main Himalayan range. It is also aided by many small tributary glaciers. It is surrounded by high mountains from three sides. It is said that this glacier formed Chandertal lake by causing a major havoc in Chadra valley in 1936. Bada Shigri glacier was conquered by all women mountaineers in 1956. It was further successfully trekked by Stephenson in 1956. There are number of prominent glaciers in Chandra valley in Lahaul. Some of them are Chhota Shigri ( means Small Glacier ), Kulti, Shpting, Pacha, Ding Karmo, Tapn, Gyephang, Bolunag, Shili and Shamundri. Gyephang is the chief deity of Lahaul valley and the Gyephang glacier is named after him. It is full of snow all the year. It is considered as the Manimahesh of Lahaul.
Chandra Glacier:- It falls in the Lahaul - Spiti district of Himachal Pradesh. It is located on the slopes of the main Himalaya. It has been separated from Bara Shigri glacier. This glacier reason behind the formation of Chandertal lake. Chandertal lake is surrounded by snows and acres of scree. This deep blue-water lake has a circumference of 2.5 km. It is also called the 'Lake of the moon'. It remains completely frozen during winter. Chandertal lake is the source of the river Chandra.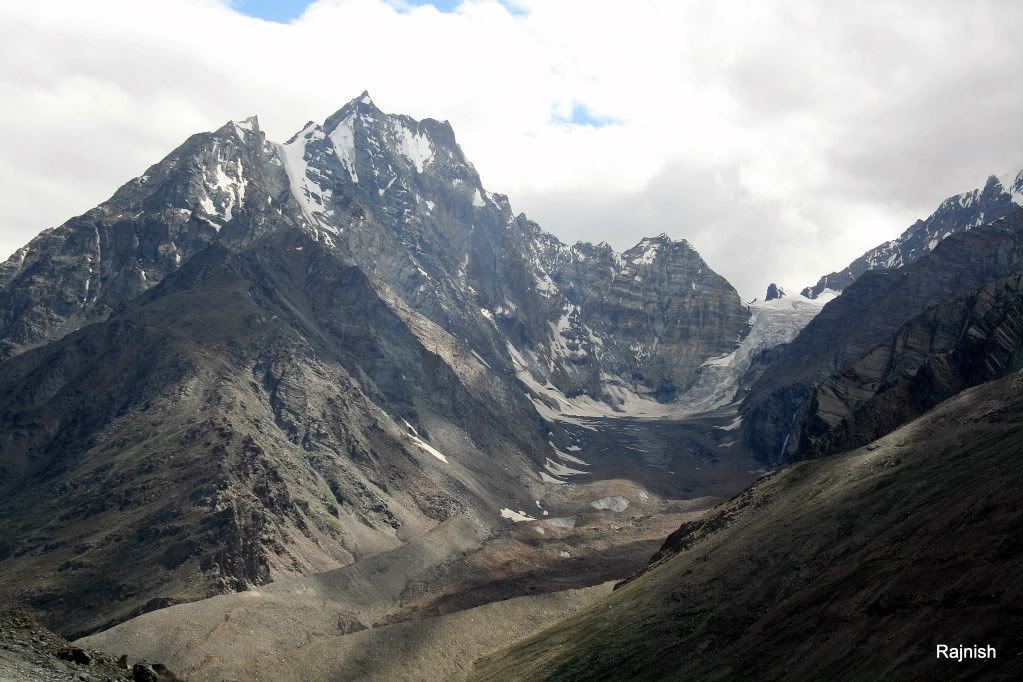 Chandra River
Chandra Taal
( The lake of the Moon)
http://en.wikipedia.org/wiki/Chandra_Taal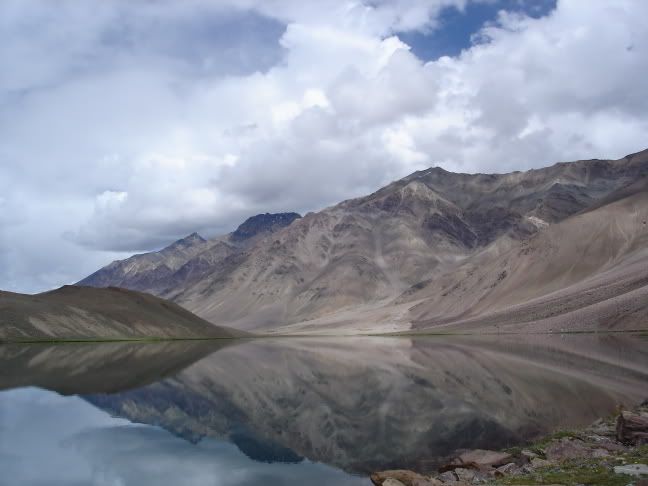 Key Monostory
(
http://en.wikipedia.org/wiki/Ki_Gompa
)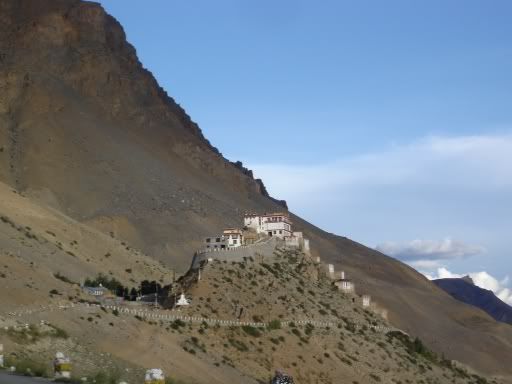 Muddy water of Paarchu
(orignating from Mansarover Lake in Tibet) meets Spiti river to make the mighty Satluj river.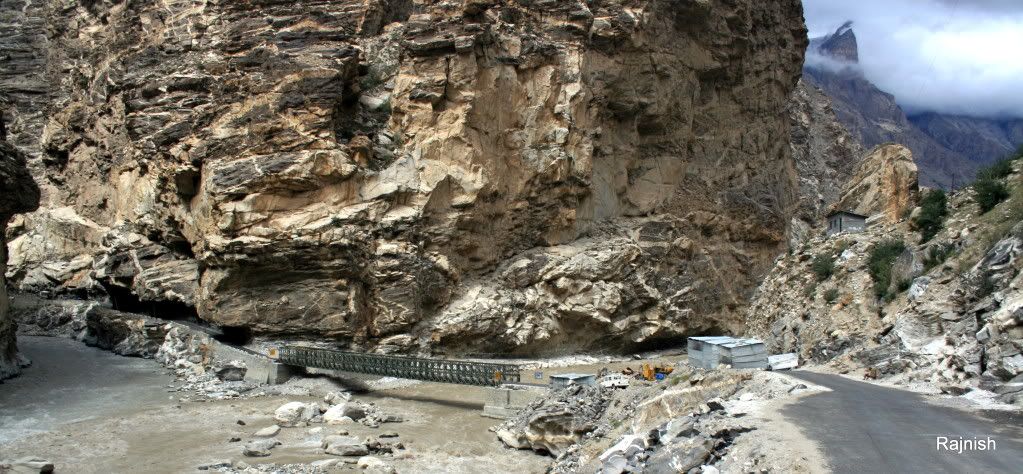 My Backyard
(Kalpa in the shadow of the Kinner Kailash mountain)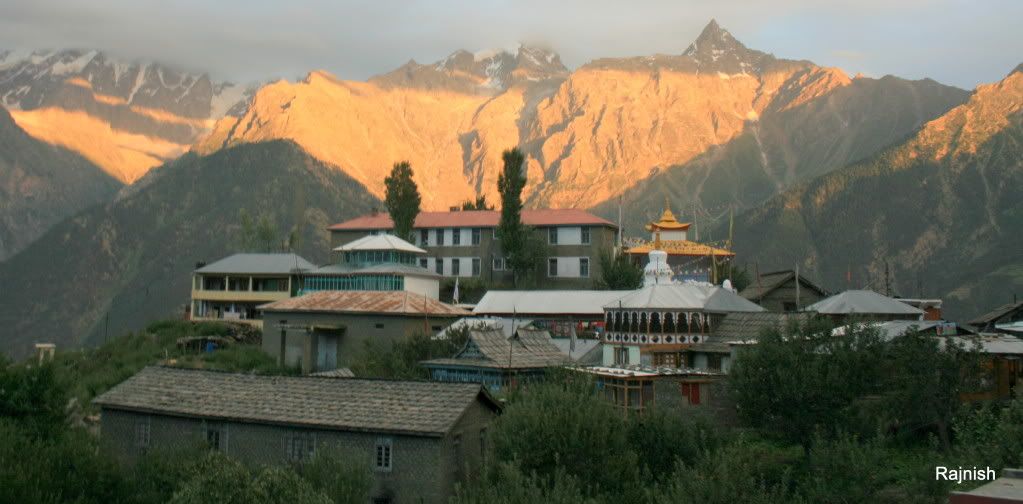 My Ride
(Royal enfield 350) The classic they forgot to stop making. At Kunzum La (4,551 m)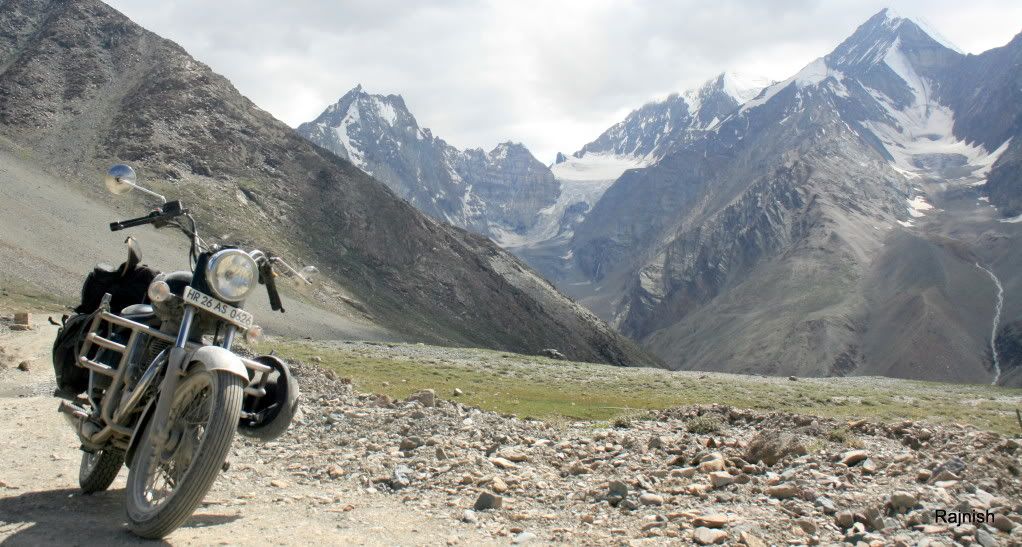 The river bed
After a long day of riding.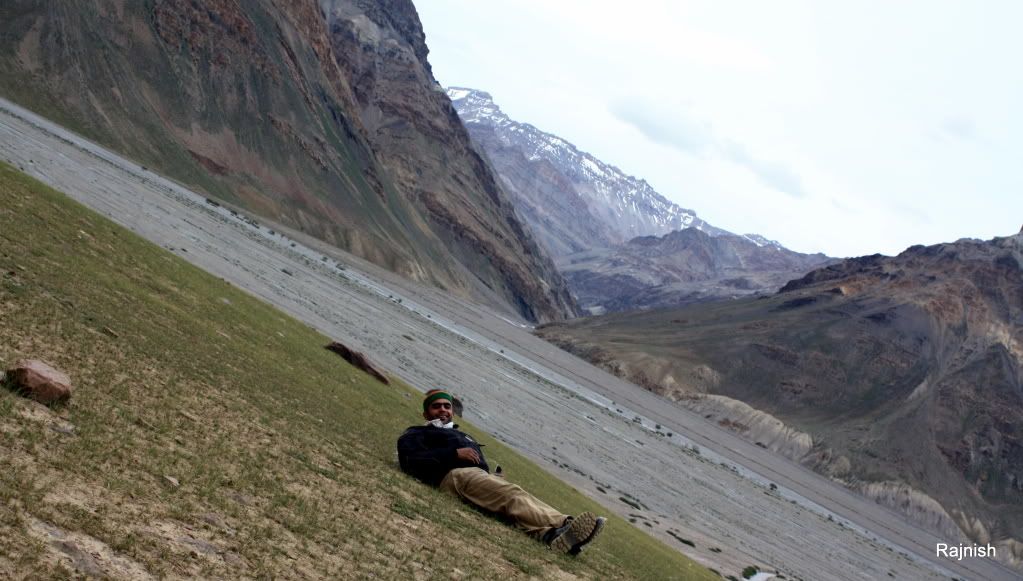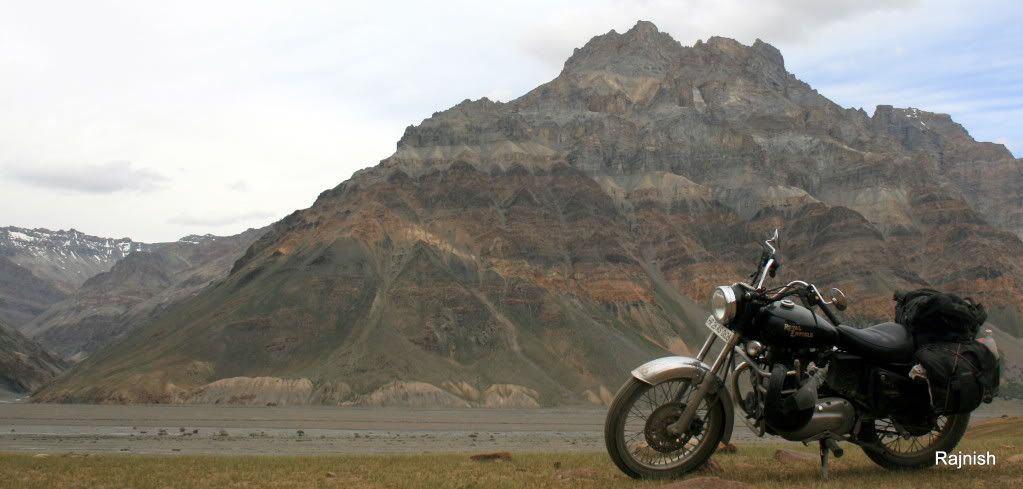 Contact me for blow ups and high resolution coppies of the pitures.